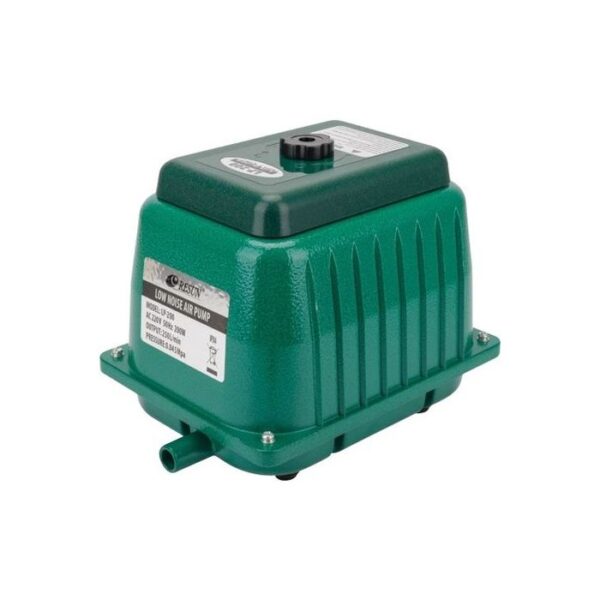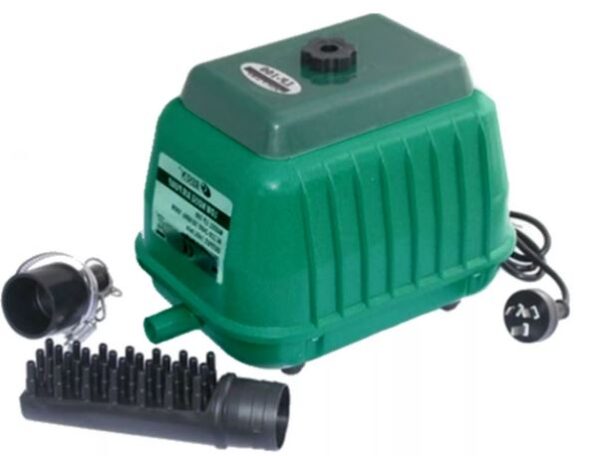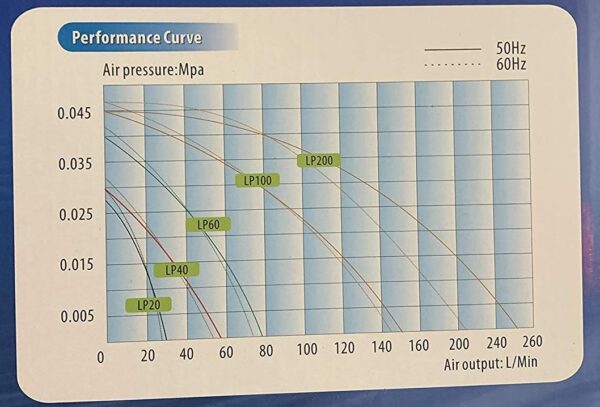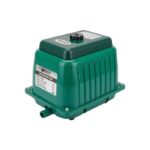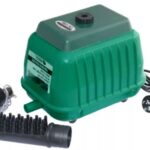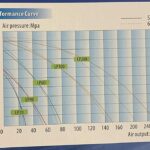 200 watt Resun LP 200 Air Pump
R6,500.00 Excl. VAT
The LP200 Air Pump quietly delivers a maximum of 250 litres per minute air flow and 450mbar pressure.
Description
Additional information
Compare Resun LP-200 and Hiblow HP-200
Description
The LP200 Air Pump quietly delivers a maximum high volume air output of 250 litres per minute, which is suitable for large fish and koi ponds as well as hydroponic systems. It should be housed in a low dust environment, but can withstand rain and water sprinkling.
Note: Must be set-up above the water level and should be placed in a low dust environment but will tolerate rain and light sprinkling
Rated Power: 200W
Flow Rate: 250L/min
Maximum pressure: 0.045Mpa
Outlets: 33 on 50mm manifold
Adding oxygen or pond aeration into a fish pond is very important for fish health, particularly in densely stocked koi fish ponds and in the summer months when oxygen levels decline. Fish will become visibly more active in an oxygen-rich pond.
Also used for: Aquaponic Aerobic Mineralizer, Hydroponic Systems, Waste water treatment aeration, Deep water septic tank aeration, Natural swimming pond aeration, Aquaculture pond aeration, Commercial and industrial water aeration, Koi Ponds
Additional information
| | |
| --- | --- |
| Weight | 10 kg |
| Dimensions | 40 × 40 × 40 cm |
| Brand | Resun |
| Model Number | LP200 |
| Rated Voltage | 240V AC |
| Rated Power | 200w |
| Flow Rate | 250 L/min |
| Pressure | 0.045Mpa (450mbar maximum) |
| Air pump outlet diameter | 20mm |
| Outlet Manifold | 33 outlets to suit 4-8mm ID hose air line |
Blower performance comparison for the Resun LP-200 and the Hiblow HP-200
We can supply the Hiblow HP-200 as an import. Usually, we need to import at least 6 units at a time. They work out at 2.5 to 3 times the price of the LP-200 due to exchange rates.
Here is the Hiblow HP-200 blower curve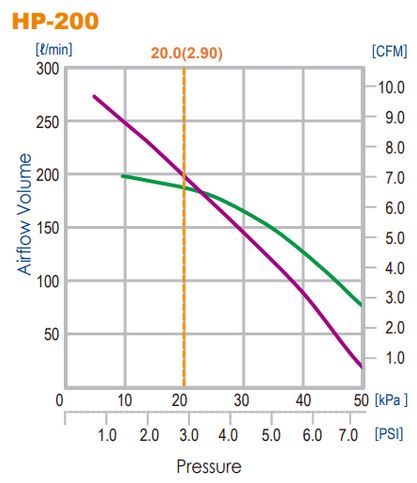 The Hiblow HP-200 delivers 200 liters per minute at 200 millibar. This would be about 1.7m of water if we allow 30mbar for friction losses in pipes and diffusers. The purple line is the South African 50 Hertz power. On the image above in this page, the LP-200 will deliver 140lpm under the same conditions. The LP-200 is rated as 200 watt at 50Hz and the Hiblow HP-200 as 210 watts.