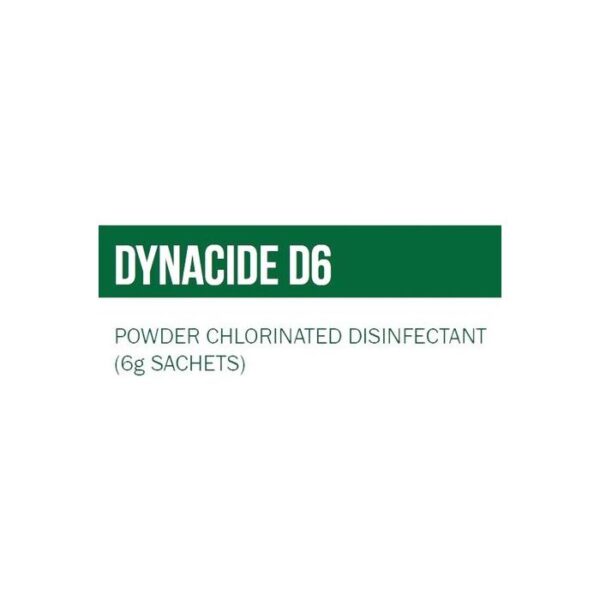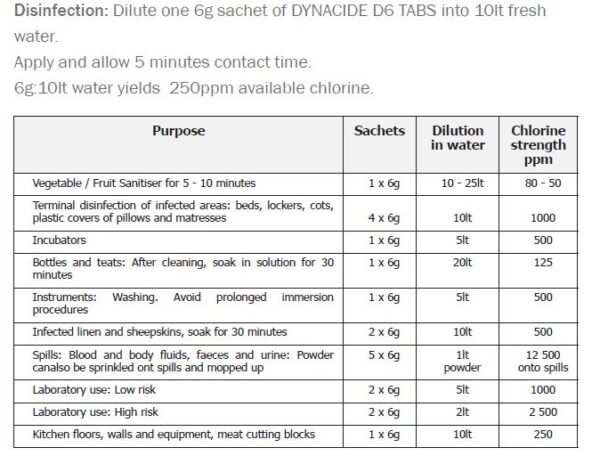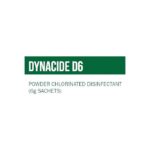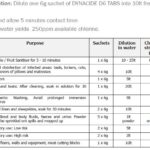 Dynacide D6
R1,360.00 Excl. VAT
Dynacide D6 is a food grade and general purpose chlorinated disinfectant in convenient 6 gram sachets.
Description
Additional information
Bacterial kill data
Safety
Description
Dynacide D6 is a food grade chlorinated disinfectant in convenient 6 gram sachets. This water soluble powder is generally applied with a 5 minute contact time. Dynacide D6 applications include hospitals, theatre and critical care areas, laboratories, apparatus and instruments, walls and floors, body and blood spills, beds, canteens and kitchens, disinfection of hospital white laundry items, vegetable and fruit sanitizing etc. At the applied concentration fruit and vegetables need not be rinsed after the application.
DYNACIDE D6 is an effective bactericidal disinfectant such as Staph. Aureus, E. Coli. and Pseudomonas Aeruginosa.
It yields 250ppm available chlorine at the recommended concentration.
DYNACIDE D6 is suitable for use on stainless steel, plastics, glassware, polymer-substrates, certain fabrics, etc.
At one 6 gram sache per 25 liters of water, the case of 1000 saches treats 25000 liters of water and under 5 cents per liter.
Additional information
| | |
| --- | --- |
| Weight | 6.5 kg |
| Dimensions | 30 × 30 × 30 cm |
Effectiveness against bacteria:

Safety
DYNACIDE D6 is a white free-flowing powder with a distinctive chlorine smell and when undiluted can cause chemical burns to skin and eyes. Wear impervious rubber gloves and safety goggles.
Product in eye: Immediately flush eyes with plenty of water for at least 15 minutes, lifting lower and upper lids. Get medical attention immediately.
Product on skin: Flush skin with water and remove contaminated clothing. Obtain medical attention if irritation persists.
Product ingested: Do not induce vomiting. Give large quantities of water to drink. Get medical attention.
Product inhaled: Remove to fresh air. Seek medical attention if breathing is difficult.
Avoid prolonged contact with aluminum and galvanized surfaces.
DYNACIDE D6 will stain materials susceptible to bleaching.