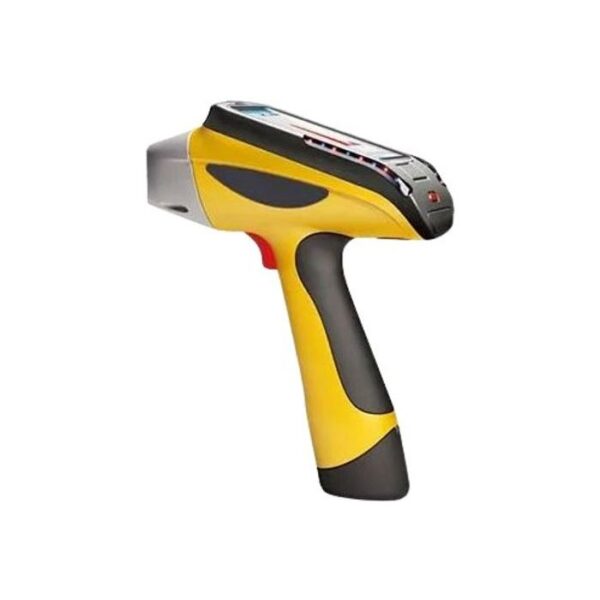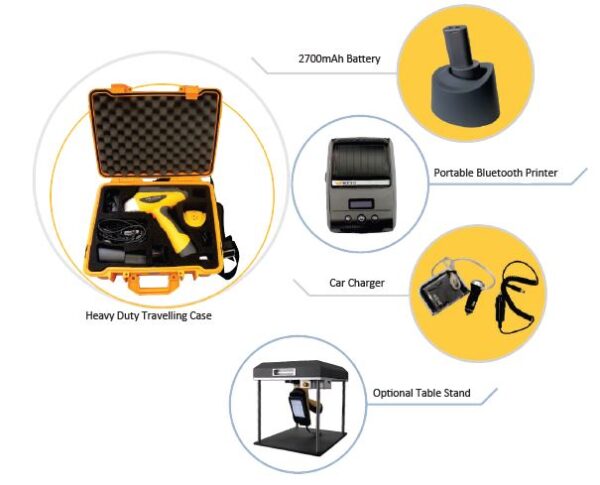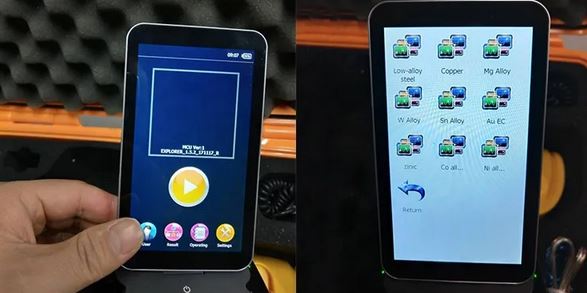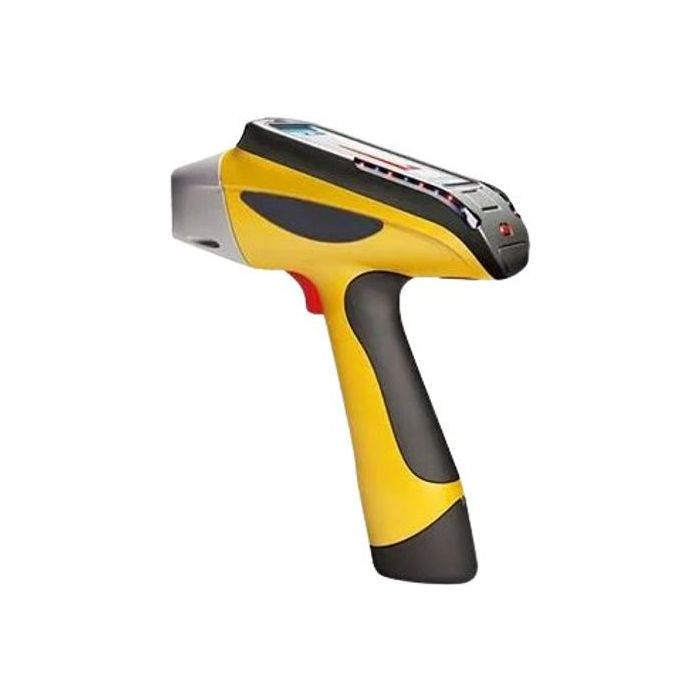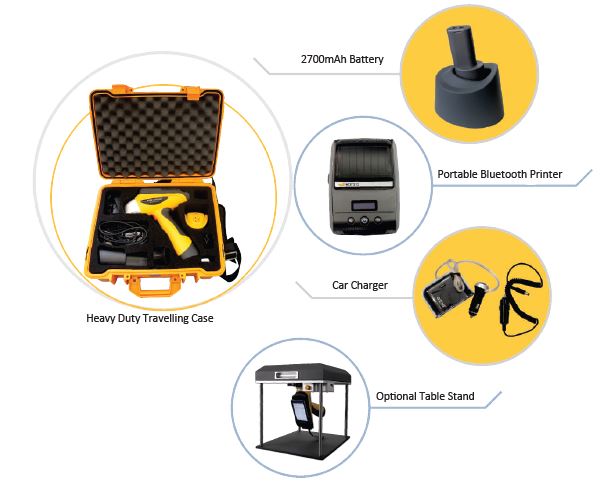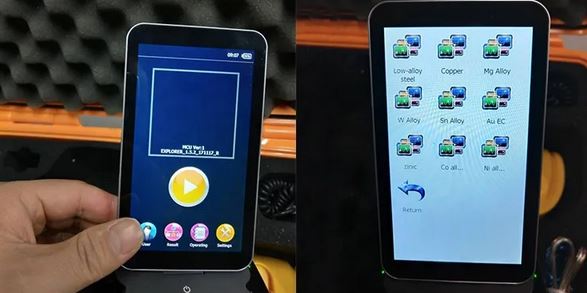 Handheld XRF Spectrometer, Explorer 5000
R656,000.00 Excl. VAT
Handheld alloy analyzer, XRF X-ray Fluorescence Spectrometer
Description
Additional information
Specification
Standard package
Description
Introducing the EXPLORER 5000, a cutting-edge handheld alloy analyzer that provides fast and accurate detection without causing any damage. This powerful device can identify a wide range of precious metal alloys, including low alloy steel, stainless steel, tool steel, chrome/molybdenum steel, nickel alloys, cobalt alloys, nickel/cobalt-resistant alloys, titanium, copper alloy, bronze, zinc alloy, tungsten alloy, and more. Its rapid detection capabilities extend to aluminum and magnesium alloy grades, enabling reliable material identification and confirmation (PMI), as well as precise quality control. Equipped with a large-screen, high-resolution LCD and a new digital signal processor, the EXPLORER 5000 delivers performance on par with desktop analyzers, but with the added benefits of portability, small size, and light weight, making it perfect for field testing and analysis of various alloys.
Guideline price – contact us for a formal quote – is with the accessories set: 12V Auto Adapter, User Manual, Silver Standard Sample, Outlet Charger, Extra Batteries, USB Connector, USB Adapter.
Up to 5 software databases can be configured on a single Explorer XRF-including Alloy Analysis, Soil analysis, RoHS and Mineral Analysis.
Software Options
RoHS Software for Hazardous Substances
Alloy Analysis Software
Heavy Metals in Soil Software
Mineral Analysis Software
Precious Metals Software
Plating Thickness Software
Simultaneous detection of Ti, V, Cr, Mn, Fe, Co, Ni, Cu, Zn, Ga, Ge, Zr, Nb, Mo, Ru, Rh, Pd, Ag, In, Sn, Sb, Hf, Ta, W, Re, Pt, Au, Pb, Bi, Mg, Al, Si, P, S, and as optional extras you can add elements to customized the meter to your needs.
Typical Applications
Precious metal alloy
Iron and steel smelting
Waste metal recycling
Machinery manufacturing and processing
Boiler pressure vessel
Aerospace industry
Shipbuilding
Soil analysis
As a tool for soil analysis, this instrument will measure all the elements highlighted in white!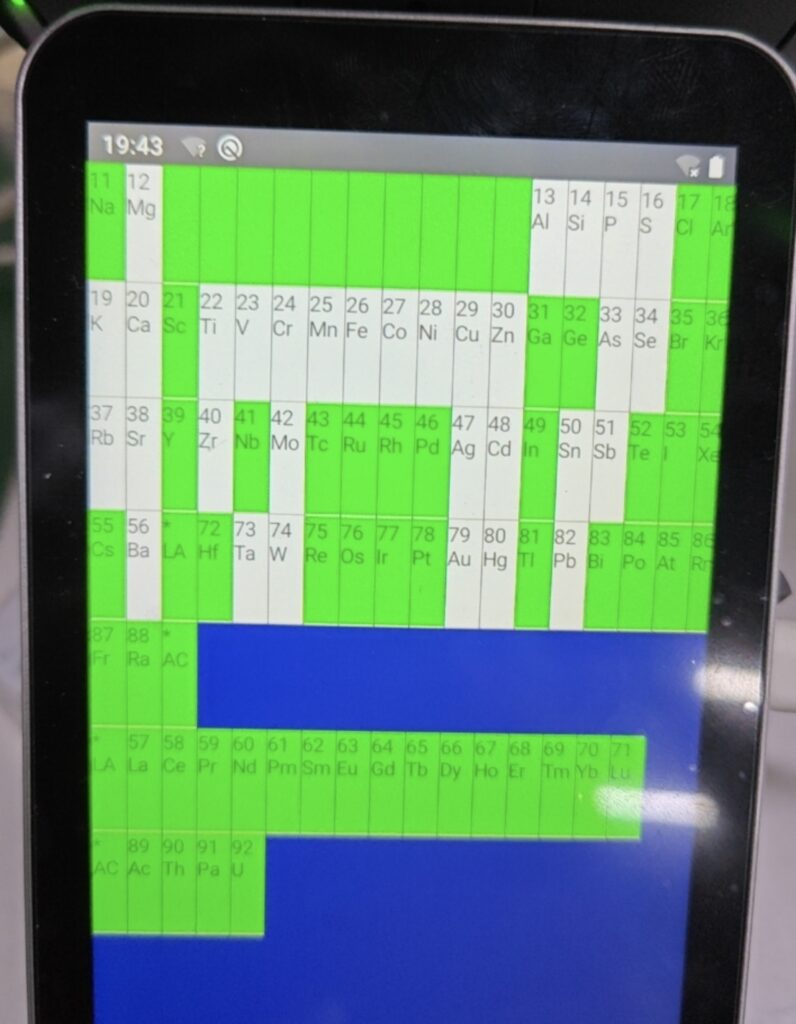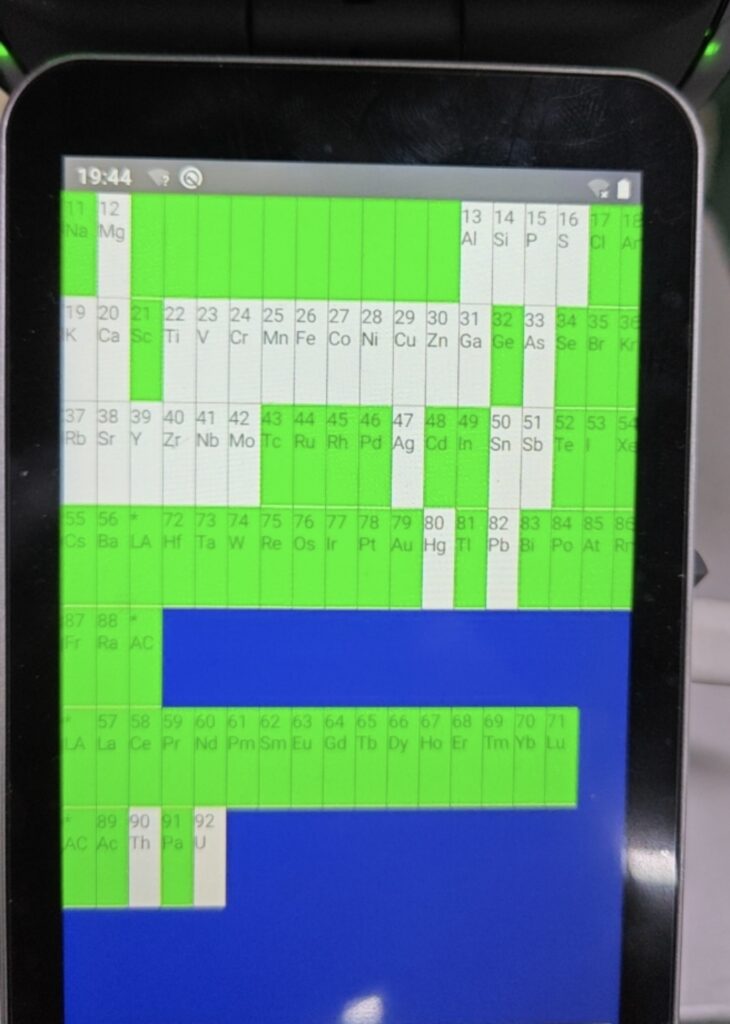 Additional information
| | |
| --- | --- |
| Weight | 15 kg |
| Dimensions | 40 × 40 × 40 cm |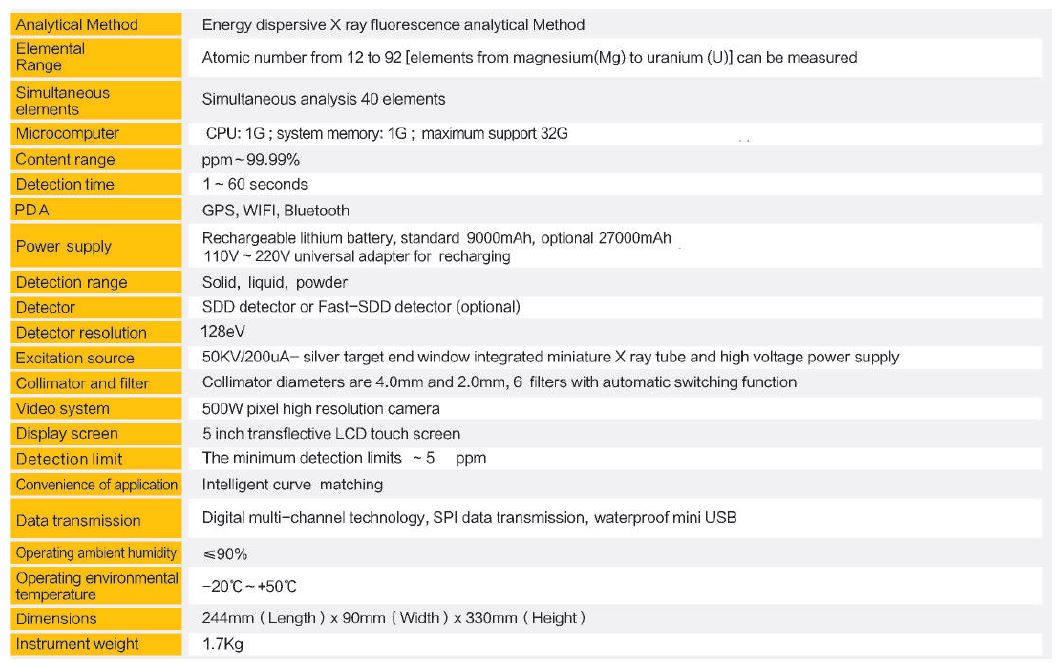 Technical Specifications
Measurable elements:
Magnesium(Mg) to Uranium (U)
Limits of Detection
1 ppm
Analysis Range:
1 ppm-99.999%
Test time
2 second results, average test time 20 seconds, testing can be set by user from 5 to 60 seconds
Battery:
9000mAh rechargeable lithium battery-up to 12 hours work time
Energy Resolution
128eV
Detector
Fast SDD
Sample types
Solids, liquids, powders
System Parameters
GPS, WIFI, Bluetooth, SPI data transmission, waterproof mini USB, 1G CPU, system memory-1G, SD Card-4G test storage data, expandable to 32G.
Weight:
1.5 kg
Model
EXPLORER 5000
Analytical Method
Energy dispersive X ray fluorescence analytical Method
Elements   Measuring range
Atomic   number from 12 to 92 [elements from magnesium(Mg) to uranium (U)] can be   measured
Simultaneous   detector elements
Simultaneous   analysis 40 elements
Microcomputer   system
Customized   system; CPU: 1G ; system memory: 1G;extended stored maximum support 32G ;   standard 4G tor mass storage data
The   content range
Ppm~99.99%
The   detection time
1-60   seconds (a second report results)
A   built-in system
GPS,   WIFI, Bluetooth
Power   Supply
Rechargeable   lithium battery, standard is 9000mAh, sustainable work up to 12 hours;   optional is 27000mAh super battery with wide voltage 110V-220V   universal adapter for recharging power supply
Detection   Objective
Solid,   liquid, powder
Detector
SDD   detector or Fast-SDD detector (optional)
Detector   resolution
Minimum   can reach 128ev
The   excitation source
50KV/200uA-   silver target end window integrated miniature X ray tube and high voltage   power supply
Collimator   and filter
Collimator   diameter are 4.0mm and 2.0mm, 6 kinds of filters with automatic switching   functions
Video   system
500W   pixel high resolution camera
Display   screen
Brand   new 5 inch transflective LCD touch screen, the resolution is 1080×720
Detection   limit
The   minimum detection limits at 1-500ppm
Safety
Multiple   safety protection, no test, no radiation, radiation levels at work are far   below the international standards, and has no sample telemetry, automatic   shut X light tube function. Standard radiation shields, thickened wall alloy   test instrument
Specialty
Ore   special edition analysis software, using intelligent one key test
Convenience   of application
Key   intelligent matching the best curve that no need to select curve
Data   transmission
Digital   multi-channel technology, SPI data transmission, quick analysis, the high   count rate; waterproof mini USB, and can be connected with a desktop computer
Operating   ambient humidity
≤90%
Operating   environmental temperature
-20°C-+50°C
Instrument   dimension
244mm   (Length) x 90mm (Width) x 330m (Height)
Instrument   weight
1.7KG
Intelligent   warming signals lndicator system
Green   light means power on, red flushing means testing and yellow flushing means   the problems
Accessories
Three-protection-box   is compression, waterproof and shock absorption. Universal charger and car   charger, 4G SD memory card and card reader

Two   Lithium battery and charger, PDA accessories, radiation shield. Optional accessories:   the large battery, seat type test support, Bluetooth printer, mil, manual pressure   machine, and other options can to chosen…
Explorer 5000 Handheld EDXRF spectrometer (1 unit)
Explorer Analyzer Installed in PDA (1 set)
PC software (1 set )
Accessory kit (1 set)
Accessory kit (1 set)
Stand—Optional (1 set)
Technical Documents:

Operation Manual,
A List of the Parts,
Inspection Report,
CE certificate,
Data and software CD,
Warranty card
Software
Standard configuration- up to 2 software options
• 1000 Precious Metals Software
• 3000 RoHS Software for Hazardous Substances
• 5000 Alloy Analysis Software
• 9000 Heavy Metals in Soil Software
• 7000 Mineral Analysis Software
PDA microcomputer
1G CPU 1G System memory, optionally expandable up to 32G, and optionally add Bluetooth and GPS.