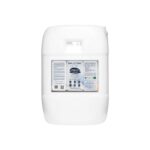 Hypochlorous solution (HOCl)
R750.00 Excl. VAT
Hypochlorous solution (HOCl) 250 mg/L microbial sanitizer.
Description
Additional information
Benefits of San-O-Tizer
Information video
Description
To reduce transport costs, this product is shipped directly from the factory, so only online orders and online shipping is possible.
San-O-Tizer Hypochlorous solution (HOCl) is 100% safe, non-toxic, eco-friendly, biodegradable, and non-dehydrating. It plays a key role in the future of health, hygiene, and infection control.
HOCl is food grade and completely biodegradable, and there's no need to rinse or wipe the area after application. San-O-Tizer is proven to be completely safe for the environment, animals, and humans (including children, pregnant women, and people with a sensitive skin).
San-O-Tizer is up to 100 times more effective at killing microbes than bleach.
HOCl is completely safe upon exposure to your body (hands and face) without any negative side effects.
HOCl has been recommended in the United States, Canada, Japan, the United Kingdom, and many other major countries around the world as a preferred sanitising agent for denaturing SARS-CoV-2 (coronavirus).
Unlike alcohol, San-O-Tizer doesn't damage your skin cells or destroy your natural oils.
Non-flammable, non-toxic, and non-dehydrating.
Denatures viruses, bacteria and fungi within seconds.
Safe for children to carry around and use regularly.
Effective at low concentration (0.005%).
Poses no environmental risks.
Doesn't require rinsing
Pet, fish and plant safe.
Additional information
| | |
| --- | --- |
| Weight | 25 kg |
| Dimensions | 35 × 40 × 55 cm |
Benefits of San-O-Tizer
Non-dehydrating,non-toxic,hypo-allergenic, and non-irritant.
Anti-inflammatory, cell repair, natural, eco-friendly, and 100% biodegradable.
Non-combustible and non-flammable.
CHILD/PET FRIENDLY
ANTIBACTERIA
ANTI VIRAL
ANTIFUNGAL
HYDRATING FOR SKIN
WOUND CARE
Safe for people, animals, and plants.
Food grade and medical grade (kills 99.999% of bacteria and germs).
Halaal approved.
Broad spectrum disinfectant (bacteria, viruses, spores, fungi, biofilms, and yeast).
Free from toxic chemicals (no alcohol, ammonia, bleach, sulphates, fragrances, or pesticides).