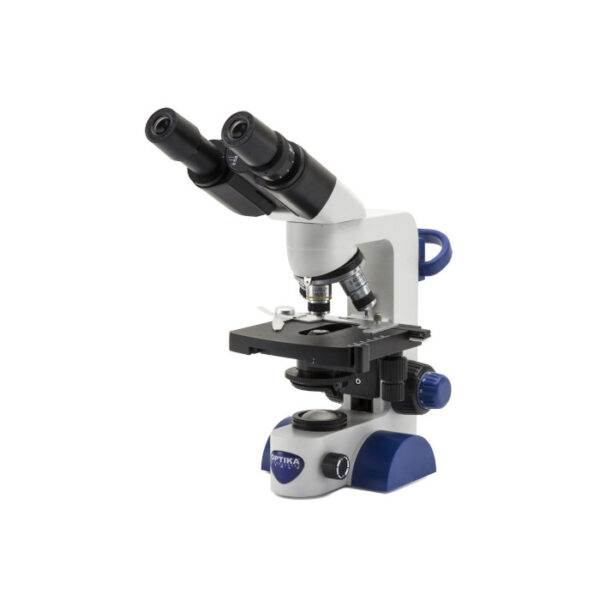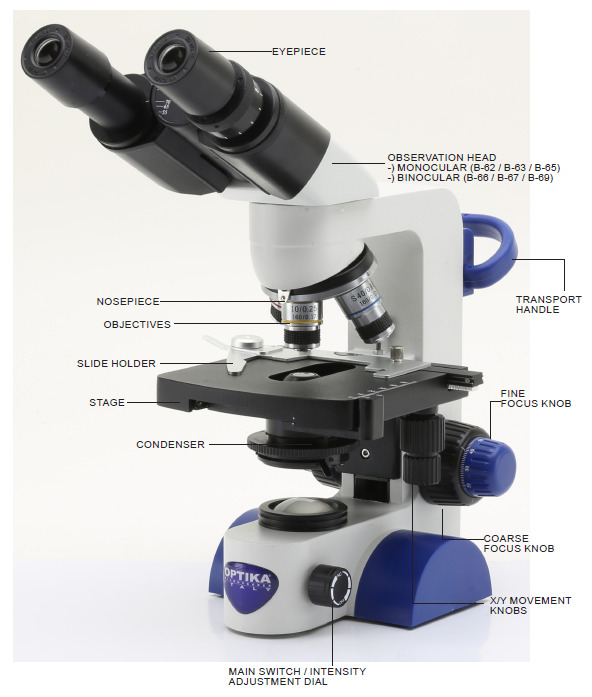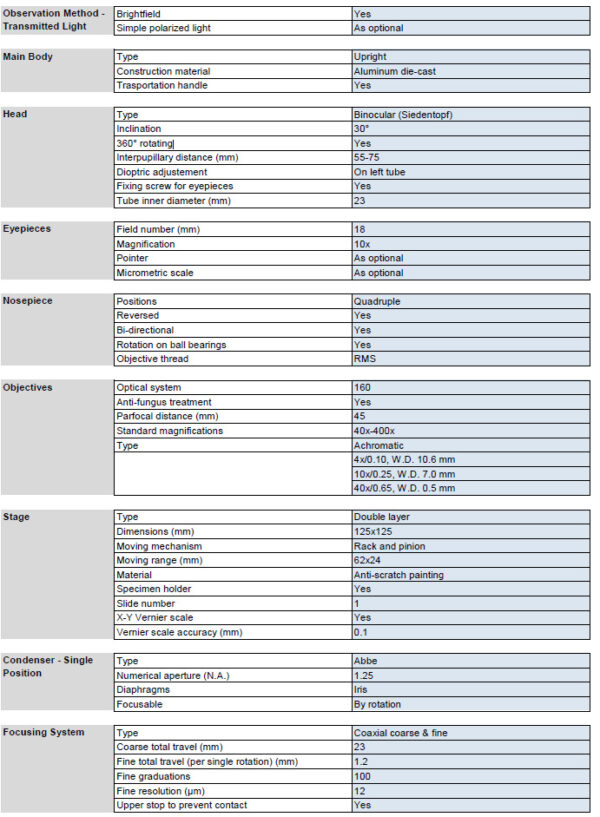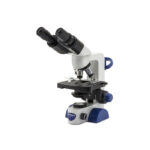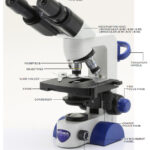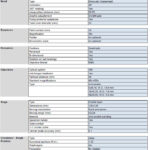 B-66: 400x Binocular Brightfield Compound Microscope
R10,111.00 Excl. VAT
Binocular compound microscope, 400x, achromatic objectives
Description
Additional information
Instructions
Description
Binocular 400x compound microscope, Observation mode: Brightfield.
Head: Binocular, 30° inclined; 360° rotating.
Dioptric adjustment: Left eyepiece.
Eyepiece: WF10x/18 mm, secured by screw
Nosepiece: Quadruple ball bearings revolving nosepiece, reversed.
Objectives:
– Achromatic 4x/0.10, with anti-fungus treatment
– Achromatic 10x/0.25, with anti-fungus treatment
– Achromatic 40x/0.65, with anti-fungus treatment
Specimen stage: StagErase™ eraseable mechanical stage,
125×125 mm, 62×24 mm X-Y movement range. Vernier scale on the two axes,
accuracy: 0.1 mm.
Focusing: Coaxial coarse and fine focusing mechanism with limit stop to prevent the contact between objective and specimen.
Condenser: Abbe N.A. 1.25, pre-centered, focusable, with iris diaphragm.
Illumination: 1 W LED, with brightness control, rechargeable batteries.
Color temperature: 6,300 K. Multi-plug 100-240Vac/5Vdc external power supply.
Additional information
| | |
| --- | --- |
| Weight | 5 kg |
| Dimensions | 45 × 35 × 35 cm |
| Brand | Optika |
| Model Number | B-66 |
| Power type | External, 220volt, 50Hz & battery, Ni-MH (3x, AAA size) |
| Weight | 3kg |
| Product size | 330(h)x135(w)x235(d)mm |
| Condenser - single position | Abbe, 1.25 numerical aperture (N.A.), iris diaphragm, focusable by rotation |
| Transmitted light | YES, LED, 1.5w, manual brightness control |
| Stage | Double layer 125 x 125mm rack and pinion with 62 x 24mm moving range |
| Focusing system | Coaxial coarse and fine, 23mm total travel, fine resolution 12μm, Fine total travel (per single rotation) 1.2mm |
| Main body | Upright, aluminium die-cast |
| Nosepiece | Objectives: – Achromatic 4x/0.10, Achromatic 10x/0.25, Achromatic 40x/0.65, with anti-fungus treatment |
| Head | Binocular Brightfield, 30° inclination, 360° rotating |
| Eyepieces | 10 x magnification & field number 18mm |
Instructions in the box for standard binocular stereomicroscope & download from Optika