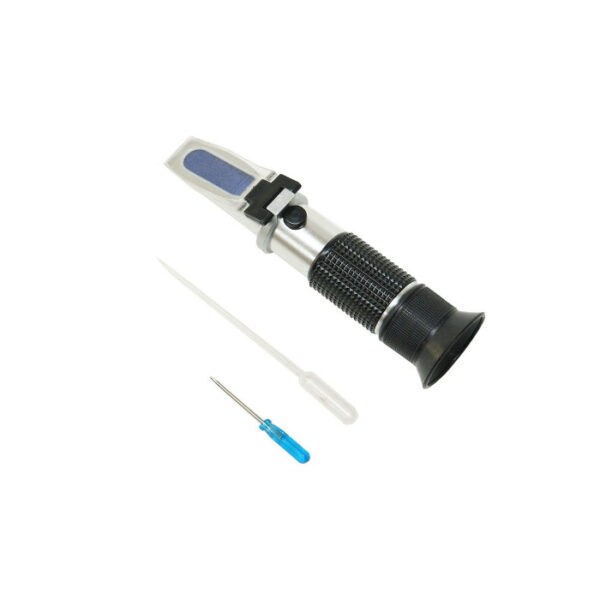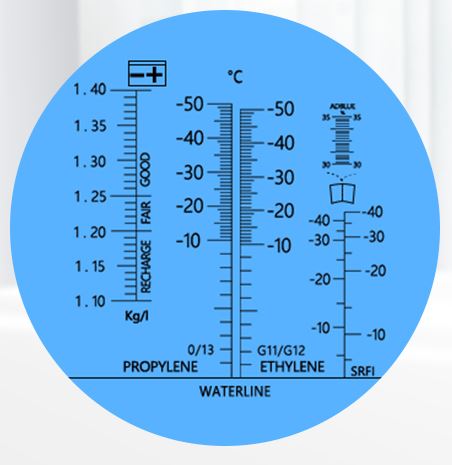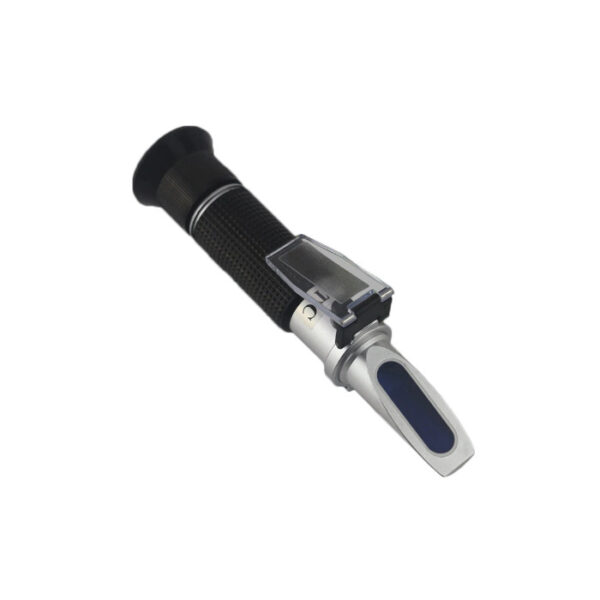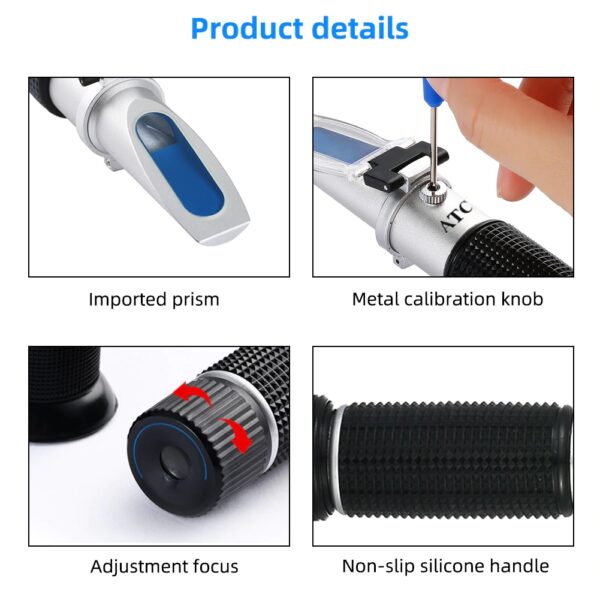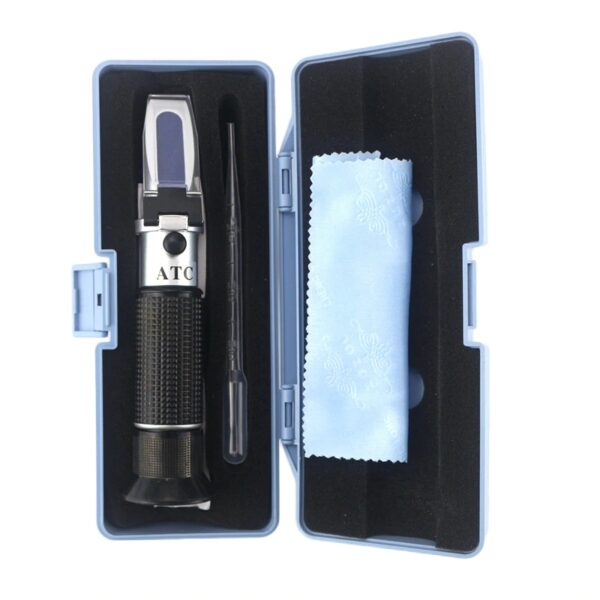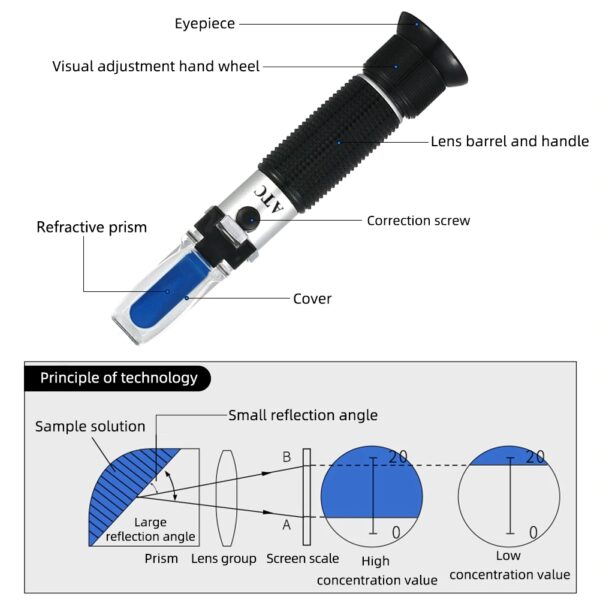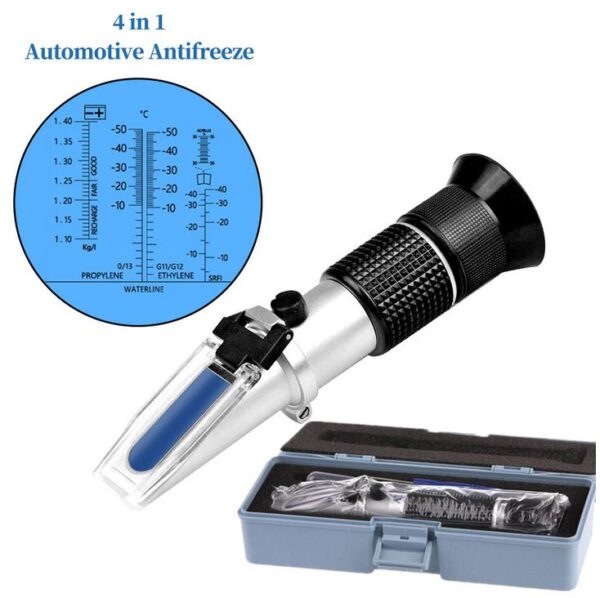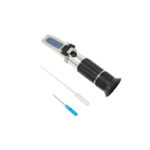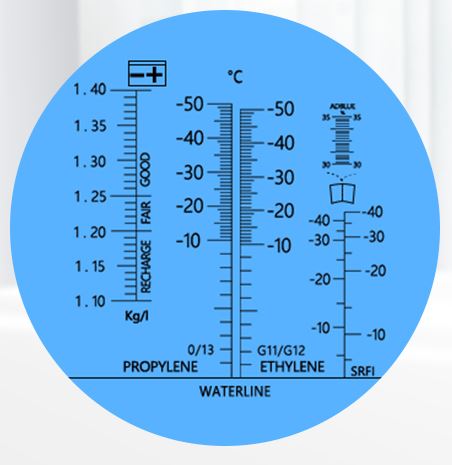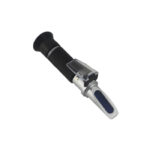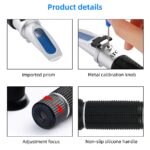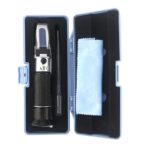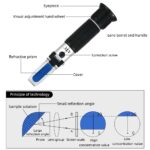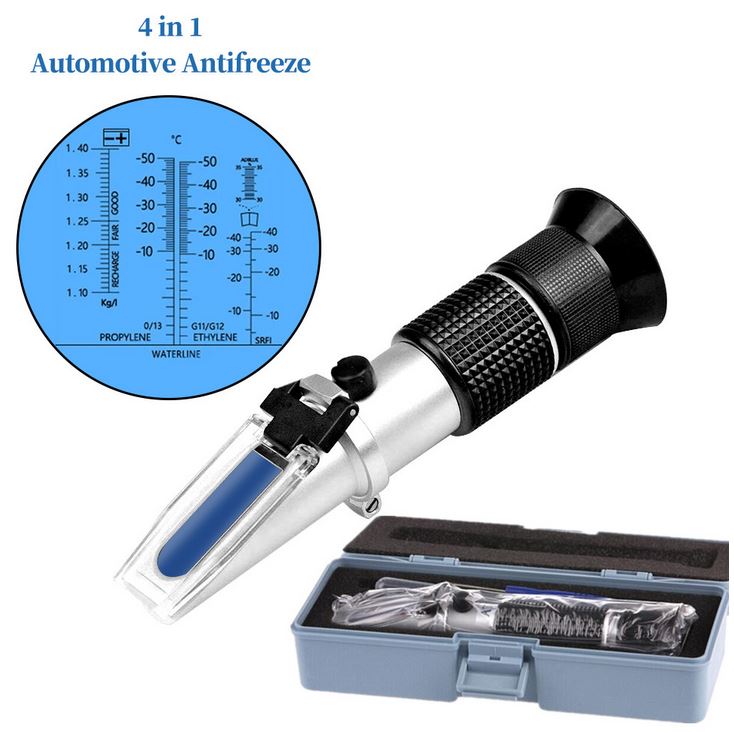 Car Battery, Adblue & Glycol Antifreeze refractometer
R890.00 Excl. VAT
Automotive antfreeze, car battery fluid, Adblue & antifreeze (ethylene & propylene) glycol refractometer
Description
Additional information
Instructions
Description
Car Battery Fluid, Adblue & Antifreeze (ethylene & propylene) glycol refractometer. Visual scale for battery fluid, ethylene glycol and propylene glycol on Celsius scale. Measuring Range: Ethylene Glycol: -50°C-0°C. Propylene Glycol: -50°C-0°C;  Resolution: 5°C. Battery Fluids: 1.100-1.400sg. Scale SRF1 – Scale to determine the freezing point of isopropanol-based screen washes ; Scale range: -40~0°C. Scale Urea – for measuring of liquid additive AdBlue; The scale for liquid additive AdBlue used to treat exhaust gases to the level of emission standards Euro 4 and Euro 5; Scale range: 30~50%; Resolution: 0.2%. Uses ambient light only which means battery or power source is not required; Easy to focus and calibrate; ATC = automatic temperature compensation.
Fast, precise control of the anti-freeze concentration on coolant and screenwash as well as for checking the battery acid density and AdBlue
Eyepiece with adjustable focus, equipped with rubber cup
Left scale: battery acid density measuring range 1100 – 1400 sg / resolution 0.01 sg
Middle scale: antifreeze based on propylene glycol G 13, measuring range 0 °C to -50 °C / resolution 5° C, and

antifreeze based on ethylene glycol G 11/G 12, measuring range 0 °C to -50 °C / resolution 5 °C

Upper right scale: AdBlue (VRA) urea concentration, measuring range 30% – 35% / resolution 0.1%
Lower right scale: screenwash antifreeze SRF 1, measuring range 10 °C to -40 °C / resolution 1 °C
Plastic case with soft foam insert
Contents:

1 x refractometer
1 x pipette
Additional information
| | |
| --- | --- |
| Weight | 1 kg |
| Dimensions | 25 × 10 × 10 cm |
| Brand | Ecotao |
| Model Number | RHA501ATC |
| Measuring range | Ethylene Glycol: -50°C-0°C; Propylene Glycol: -50°C-0°C; Battery Fluids: 1.100-1.400sg; SRF1: Scale range: -40~0°C; Scale Urea (AdBlue): Scale range: 30~50% |
| Type | Optical (visual), natural light |
| Temperature compensation | Yes (ATC) |
| Resolution | Ethylene Glycol: 5°C; Propylene Glycol: 5°C; Battery Fluids: 0.01sg; Cleaning Fluids:5°C; SRF: 5°C ; AdBlue: 0.2% |
| Accuracy | 5C Glycol; 0.01sg; |
| Length | <20cm approx |
| Weight | < 0.2kg |
| Applications | Coolant & Battery Fluid, Adblue, cleaning fluids, & Antifreeze |
| Calibration | 1. With the COVER PLATE open, clean the PRISM with a soft cloth to avoid scratching the surface. 2. Aim the refractometer toward a light source and rotate the EYEPIECE to obtain the clearest focus. 3. Zero Point Calibration (0°C freezing point of water): A. Open the COVER PLATE. B. Apply a few drops of pure distilled water onto the PRISM platform. C. Close the COVER PLATE. D. Turn the CALIBRATION SCREW until the dark and light boundary line coincides exactly with the 0°C water line at the bottom of the temperature scales. 4. Carefully dry the prism platform and COVER PLATE. 5. Place a few drops of the test solution on the prism and close the COVER PLATE so the solution spreads evenly on the prism. 6. Aim the front of the refractometer towards the light source and focus the eyepiece on the boundary line. |
Focus (the the eye end) so that you can read the scale. Add a drop of distilled water to the prism, closed the cover avoiding air bubbles. Water should spread across the entire surface. Wait about 30 seconds and view under light. Adjust the blue horizon to zero with a screwdriver or the adjustment nut, depending on the model design. The unit is now calibrated. Dry with a clean cloth or tissue. Add sample and close cover so that there are no air bubbles. Read the content indicated by the blue horizon line. Dry and clean and replace in storage container.