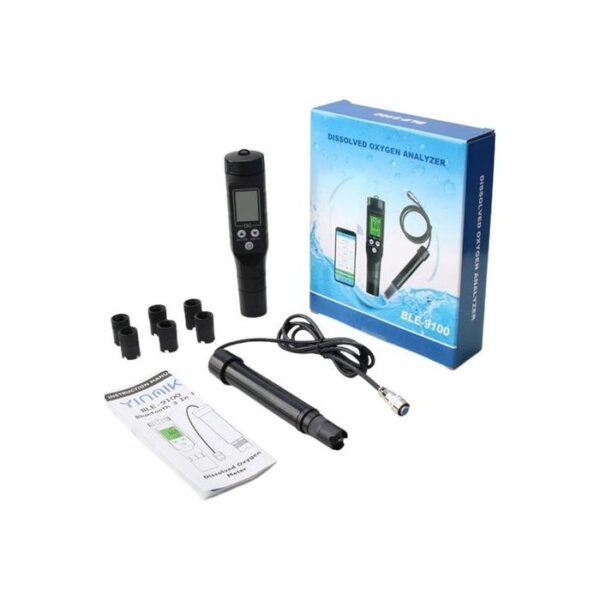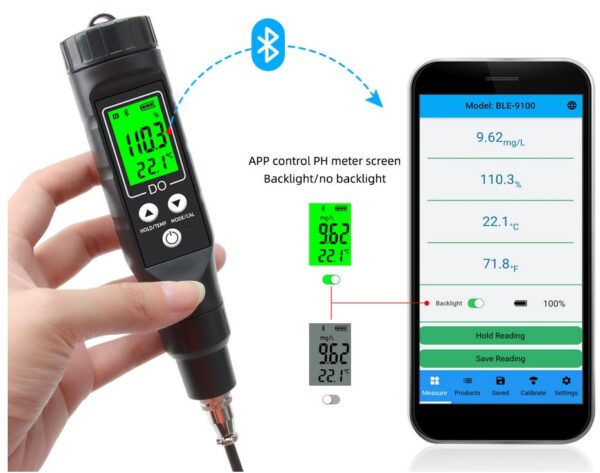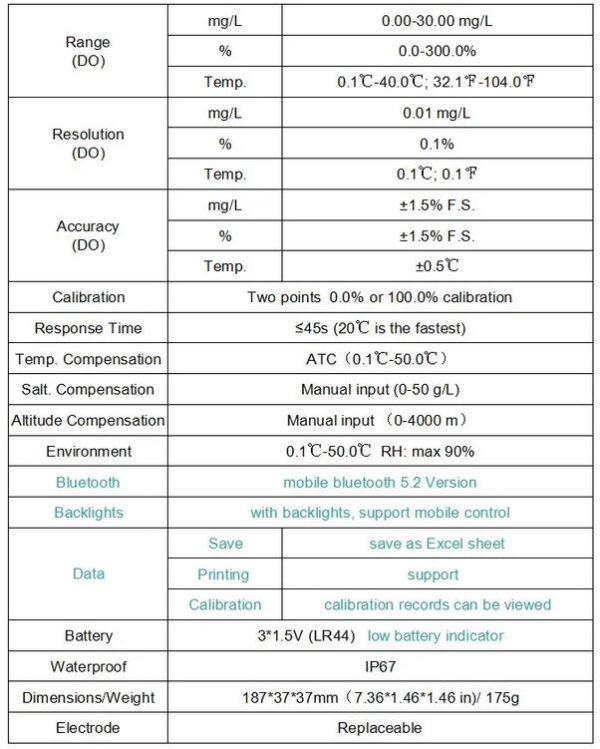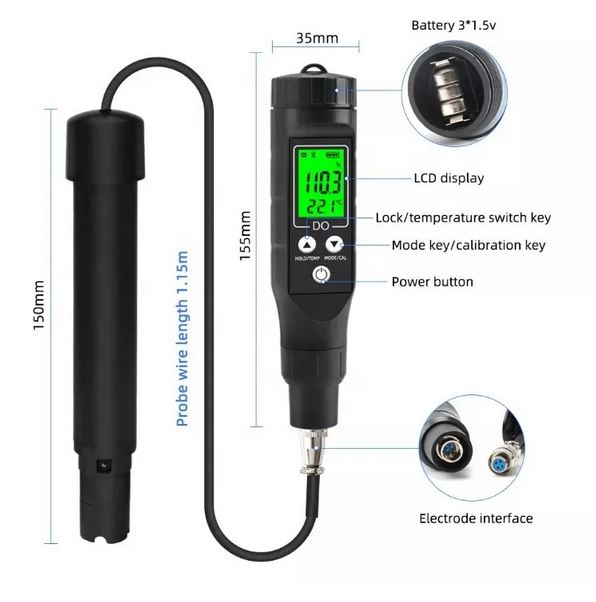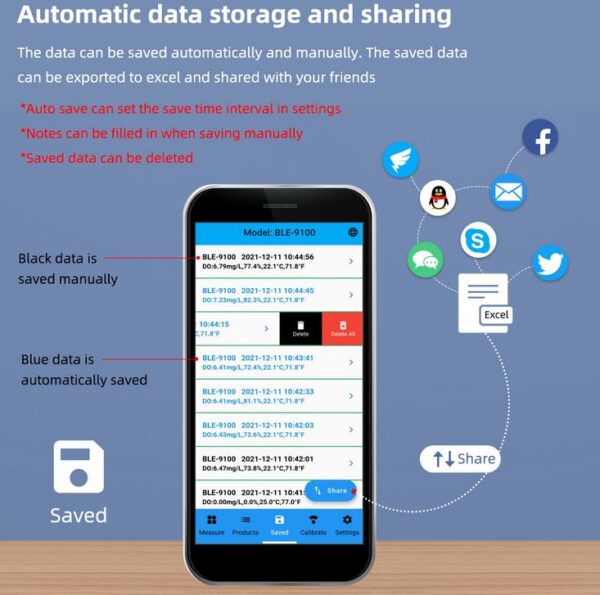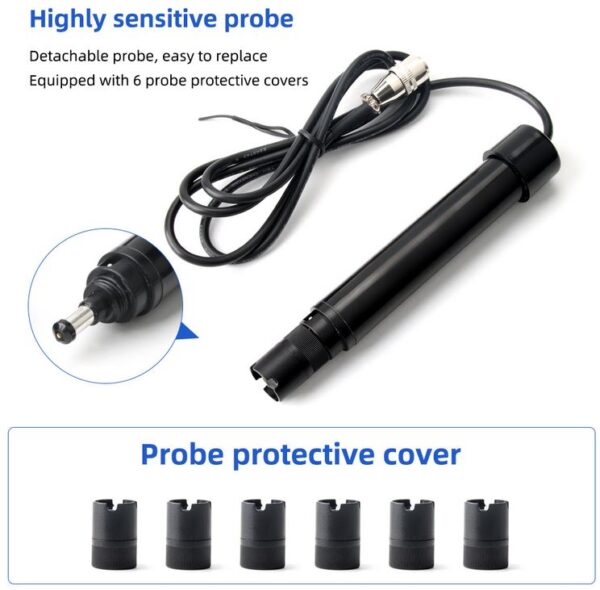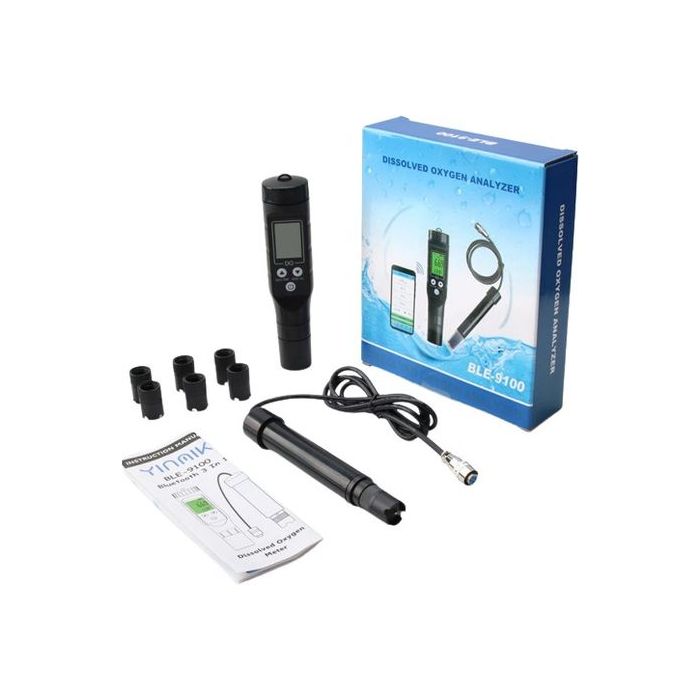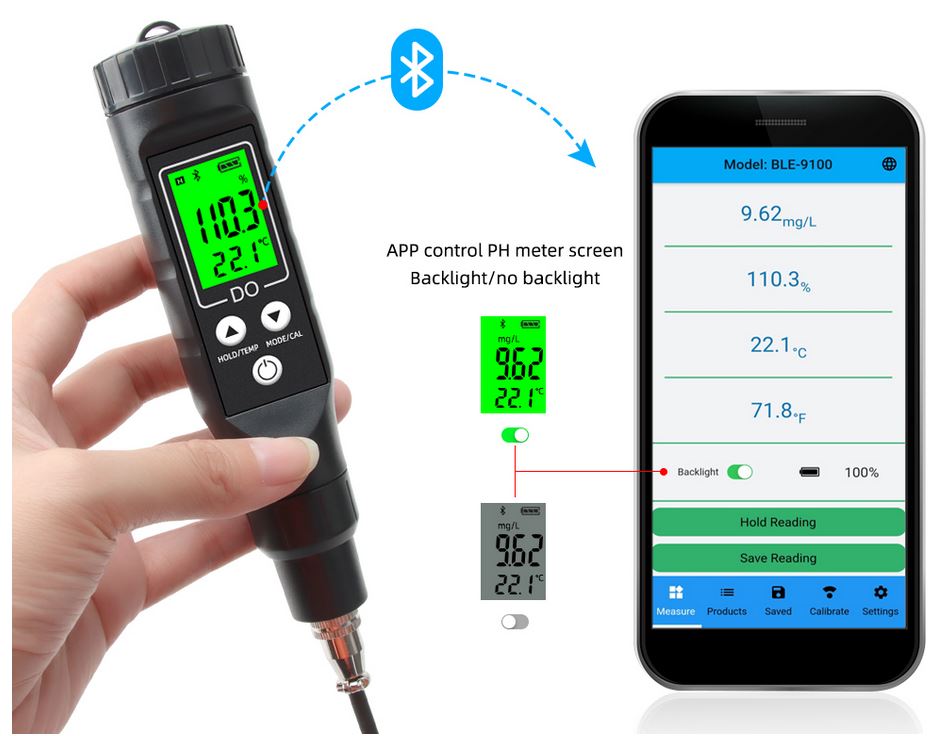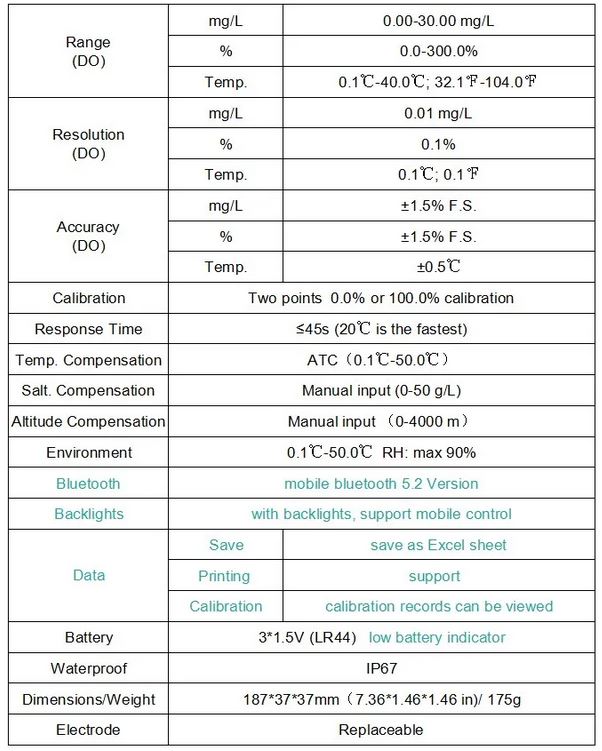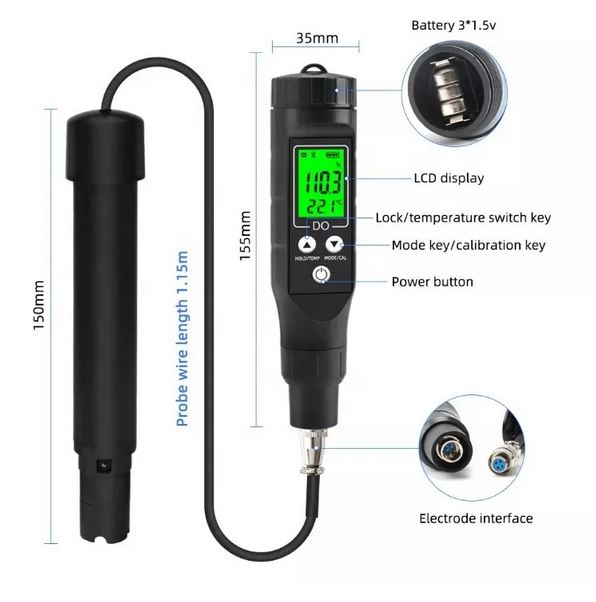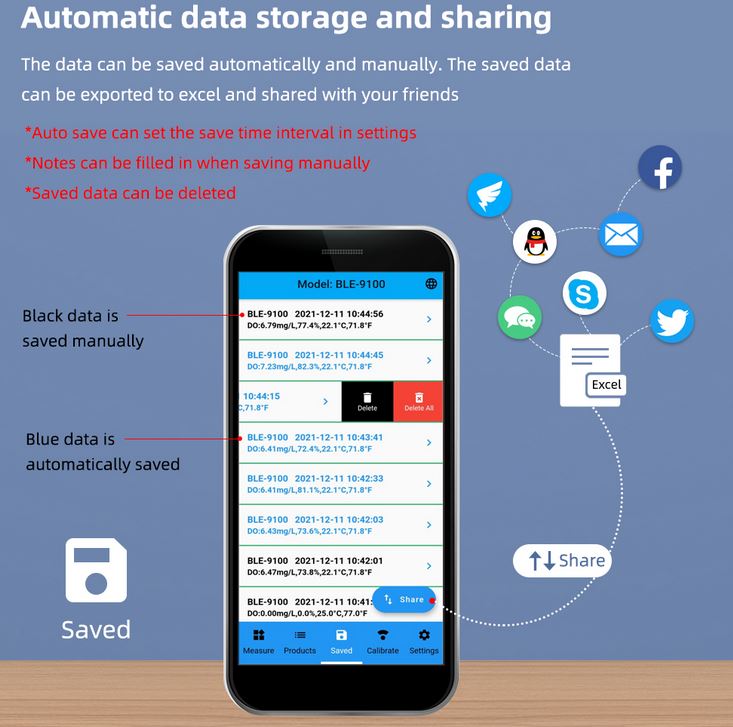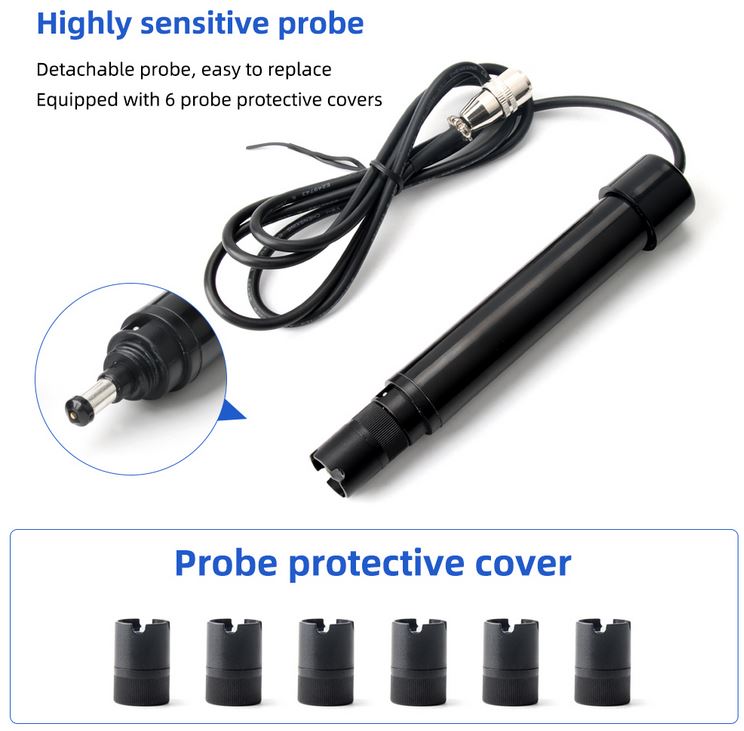 Oxygen meter with Bluetooth
R2,989.00 Excl. VAT
Bluetooth enabled oxygen meter with temperature and probe on 1 meter cable. Free software download.
Description
Additional information
Software download
BLE-9100 Specifications and Video
Description
This oxygen meter with cabled probe is for the measurement of dissolved oxygen concentration and temperature in water. It has Bluetooth connectivity to transfer data to a mobile device (Android and iOS).
Bluetooth pen do meter dissolved oxygen meter portable
Range: 0.00-30.00 mg/L; 0.0-300.0%
Temp: 0.1-40.0℃ 32.0-104.0℉
Resolution: 0.1mg/L; 0.10%
Accuracy: ±1.5%
Calibration: 0.0% or 100.0% calibration on the air
The data can be saved automatically and manually. The saved data can be exported to excel and shared with your friends
Auto save can set the save time interval in settings.
Notes can be filled in when saving manually.
Maximum and minimum levels can be set and will show in red if exceeded.
Cable is 1 meter long.
The oxygen meter is produced with modern technology and is suitable for oxygen testing applications such as aquaculture, aquaponics, hydroponics, drinking water, farming (irrigation), aquariums, swimming pools, laboratory and industry.
Membrane life
The lifespan of a polarographic membrane can vary depending on several factors, including the quality of the membrane, the conditions in which it is used, and the frequency of usage. In general, a polarographic membrane can last for several months to a few years.
However, the polarographic membrane can be easily damaged if it is exposed to harsh chemicals, high temperatures, or physical damage. The lifespan of the membrane can also be shortened if it is not properly maintained, cleaned, or stored.
To maximize the lifespan of a polarographic membrane, it is essential to follow the manufacturer's recommendations for usage, maintenance, and storage. It is also recommended to monitor the performance of the membrane regularly and replace it when signs of wear or damage are detected.
Additional information
| | |
| --- | --- |
| Weight | 1 kg |
| Dimensions | 30 × 30 × 30 cm |
Scan the QR code and download the mobile APP software. There are two types of QR code, Android and iOS, please scan and download and install according to the corresponding QR code of the mobile phone system.
Turn on the Bluetooth function: After the water quality pen is turned on, there is no Bluetooth logo and it cannot connect to Bluetooth. You need to press and hold the power button for 5 seconds, and then you can connect to Bluetooth after the Bluetooth logo appears.
Turn off the Bluetooth function: After turning on the Bluetooth standard, press the power button for 5 seconds to turn off the Bluetooth function.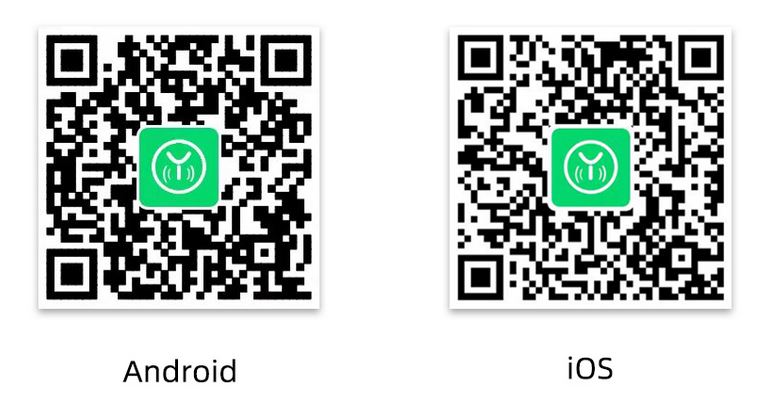 1.  Model: BLE-9100
2. Dissolved oxygen: (0.0~30.0)mg/L, 0.0-300.0%
3. Temperature: (0.1 ~ 40) °C, 32.1-104.0°F
4. Dissolved Accuracy: ±1.5%F.S
5. Dissolved oxygen saturation Accuracy: ±1.5%F.S
6. Temperature Accuracy: ±0.5°C
7. Dissolved oxygen Resolution: 0.1MG/L
8. Oxygen concentration Resolution: 0.1%
9. Temperature Resolution: 0.1°C 0.1°F
10. Automatic temperature compensation range: 0-40°C
11. Use environment: 0.1-40.0°C RH max: 90%
12. Meter Size:155*35*35mm
13. Probe Line Length: 1.0m
14. Power supply: 3*1.5V button battery (NOT INCLUDE)
15. Power Time: Automatic shut down about 8 minutes
16. Packing list: 1*BLE-9100 Bluetooth Dissolved Oxygen Meter